Tag Archives:
simple home
Simply Imperfect.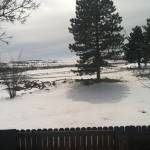 On Wabi-Sabi Weekends, I post excerpts from my book, Simply Imperfect: Revisiting the Wabi-Sabi House.
"I want to spend the time I have doing things that make my heart rage." — Buck Howard
Letting go of commitments we're not fully committed to and stuff we don't care about (but have to take care of) is a gift greater than gold—and an ability worth cultivating.
My first taste of simplicity's promise came from Duane Elgin's 1981 bestseller, Voluntary Simplicity. … Continue reading →