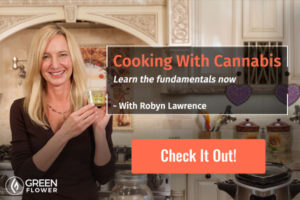 Check out my new online course!
The Fundamentals of Cooking with Cannabis: Learn How To Make Your Own Cannabis-Infused Foods, Drinks & Oils While Controlling The Dose
If you're interested in learning how to cook with cannabis while avoiding the all-too-common over-consumption experience, this brand new course will more than tickle your tastebuds. You'll learn how to create the highest quality cannabis-infused oils and butters that will become your go-to foundation for cannabis cuisine. You'll get a clear foolproof way to properly dose your foods so that you never over-consume or create a bad experience for others. You'll learn how, why and when to decarboxylate your cannabis for maximum benefits and effects. And you'll discover how to create your own healthy edibles that aren't full of sugars or artificial flavors.
Robyn Griggs Lawrence is the author of the highly acclaimed Cannabis Kitchen Cookbook, a collection of know-how, advice and recipes from America's top cannabis chefs. Having been featured on multiple national publications like Bloomberg, The Guardian, Fast Company, Alternet, Publishers Weekly and many more, her mission is to educate people about how to safely prepare and imbibe organic, sustainably grown cannabis for health and wellbeing.
You'll benefit from this course by understanding:
How to make your own cannabis infused butters, oils, tinctures, and drinks at home
How to dose safely and effectively to avoid over-consumption
How to avoid the "weed-y" taste that comes from poor cooking methods
How to make healthy edibles that aren't full of sugar or artificial flavors
How to properly decarboxylate your cannabis for maximum effect & potency
How much fun it is to cook with cannabis!
This course is for you if:
You want to enjoy the many benefits of cannabis but you don't want to smoke
You need the effects of cannabis to last longer for health and wellness purposes
Women, baby boomers and older populations with your unique needs and desires
You'd like a discreet way to consume that's free of judgment or stigma
You'd love to experiment cooking with cannabis but need to feel safe and confident
Robyn also gives workshops and classes on cooking with cannabis and safe cannabis consumption. Contact Robyn to learn more or book a workshop.