At last, top chefs from across the country reveal their secrets for healthy cannabis cuisine! The Cannabis Kitchen Cookbook is an empowering guide for harnessing the herb's unique flavor profile and medicinal benefit through mouth-watering recipes. Packed with full-color photos and recipes (cocktails too!)—including many that are raw, vegan, vegetarian, or gluten-free—this enlightening book also includes invaluable information about growing, processing and selecting the finest cultivars, navigating the new retail environment, determining desired affects and comfort level, and mastering infusions and tinctures. You'll reach for this book again and again for breakfast, lunch, dinner, snacks and entertaining—with a cannabis twist!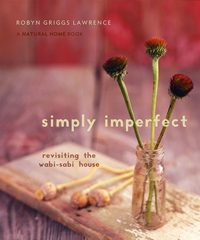 SIMPLY IMPERFECT: REVISITING
THE WABI-SABI HOUSE
Wabi-sabi is the perfect antidote for a society in recovery from a decades-long consumerist binge. Far more than home décor, wabi-sabi is a state of mind: living modestly in the moment, stripping away the unnecessary, finding satisfaction in everyday things. Simply Imperfect is a fully revised and updated edition of The Wabi-Sabi House, about finding beauty in austerity, serenity and authenticity. This book reveals ways to introduce wabi-sabi into your home such as:
Clearing clutter and blocking noise
Integrating salvaged and recycled materials
Making and growing things yourself (or supporting local artisans who do)
Taking time and space for self-reflection.
PRAISE FOR SIMPLY IMPERFECT
Simply Imperfect is an inspiring breath of fresh air and freedom in our consumerist society — a book that awakens us to the beauty of life's imperfections. In looking beyond the contemporary world of shallow materialism, Lawrence invites us to celebrate the depth and elegant grace of authentic simplicity, both in our possessions and in our awareness of life.
—Duane Elgin, author, Voluntary Simplicity and The Living Universe
Robyn Griggs Lawrence applies an ancient Japanese philosophy to today's world and comes up with relevant, poetic solutions for modern living. This book is a must-read for anyone looking to simplify and create peace — and respite — in their homes.
— Wanda Urbanska, author, The Heart of Simple Living: 7 Paths to a Better Life
Simply Imperfect is a meditation, a path to be walked upon slowly, a breath to be inhaled and exhaled consciously. Its use of the ancient Japanese philosophy "wabi-sabi" as a design point of view and, more importantly, a way of being in the world, returns us to the simplicity and beauty of homemade, home-grown, naturally inspired, and all that the cyber-world of virtual and superficial realities has seemingly forgotten. Wabi-sabi is the breeze through a screen door, the patina of a copper roof, the smoothing and grooving of an old wooden table. It is life unfolding without the need to change or correct it . . .it's simply, and wonderfully, imperfect.
— Skaie Knox, Editor-in-Chief Blogger, DiggersList.com
Simply Imperfect is the ideal antidote to the strident, guilt-ridden environmentalism of yesteryear. Robyn Griggs Lawrence gives readers the perspective they need to really enjoy their homes and their lives while making changes in their routines that benefit the planet, and their peace of mind. This is a wise book that I find myself revisiting again and again.
— Bryan Welch, Publisher, Mother Earth News, Utne Reader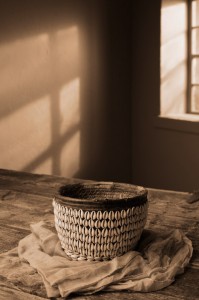 What is wabi-sabi?
Excerpt from The Wabi-Sabi House
Wabi-sabi, simply, is the Japanese art of imperfect beauty, of accepting the natural cycle of growth, decay, and death. Emerging in fifteenth century Japan as a reaction to the prevailing aesthetic of lavishness, ornamentation, and rich materials, wabi-sabi is the art of finding beauty in imperfection and profundity in earthiness, of revering authenticity above all. Broadly, wabi-sabi is everything that today's sleek, mass-produced, technology-saturated culture isn't. It's flea markets, not warehouse stores; aged wood, not Pergo; rice paper, not glass. Wabi-sabi celebrates cracks and crevices and rot and all the other marks that time and weather and use leave behind. Wabi-sabi reminds us that we are all but transient beings on this planet—that our bodies, as well as the material world around us, are in the process of returning to the dust from which we came. Nature's cycles of growth, decay, and erosion are embodied in liver spots, rust, frayed edges. Through wabi-sabi, we learn to embrace both the glory and the impersonal sadness of these blemishes, and the march of time they represent.
Intimately tied to Zen Buddhism, wabi-sabi can be embraced as an aesthetic sense, but it also brings a subtle spiritual component into the home. It reminds us that home should be a sanctuary, not a loud place full of disturbance and distraction. It asks that we set aside our judgments and our need for perfection and focus, instead, on the beauty of things as they are.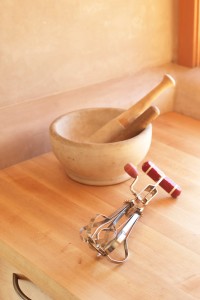 Wabi-Sabi in the Real World
Excerpt from The Wabi-Sabi House
You can start bringing wabi-sabi into your home and into your life right now by taking these simple, basic steps. You'll be amazed at the difference they can make.
—One day a week, wash the dinner dishes by hand. Taking on this task alone allows you quiet, uninterrupted time to think—or not think. Asking your spouse or child to help gives you time to catch up on each other's days (or weeks).
—Pay attention to your daily bread. Is the food you're eating in season, and is it available locally? Through the meals you choose and prepare, you can connect with the earth's cycles and with the place where you live—and live a healthier life. Buy food from your local farmer's markets and ask the produce manager at your grocery store where different items came from.
—Next time you sweep the floor, consider it a meditation. Opt for the broom over the Dirt Devil whenever possible.
—When you're invited to someone's house or even just to a meeting, bring a small gift—nothing extravagant, just a small gesture (a jar of homemade jam or apples from your tree, perhaps) that lets them know they're appreciated.
—Offer everyone who comes to visit a cup of tea. Serve it in pretty cups with a little something sweet. If no one comes by, enjoy a cup of tea by yourself in the late afternoon.
—Keep one vase in your home filled with seasonal flowers.
—Take a walk every day. Let this be your opportunity to open up your senses and to experience the changing seasons.
—Learn to knit or crochet.
—Next time you buy something, stop and ask questions. Who made it? How was it made? Where does it come from?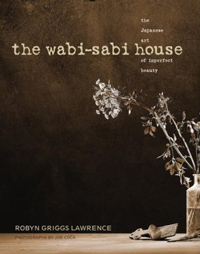 THE WABI-SABI HOUSE: THE JAPANESE ART OF IMPERFECT BEAUTY
 The Wabi-Sabi House: The Japanese Art of Imperfect Beauty, published by Clarkson-Potter Publishers in 2004, introduced Americans to wabi-sabi, the marriage of the Japanese wabi, meaning humble, and sabi, which connotes beauty in the progression of time. Together, the phrase invites us to set aside our pursuit of perfection and learn to appreciate the simple, unaffected beauty of things as they are. Wabi-sabi can be found in the deep cracks of a weathering, handmade table. It is flea markets, wildflowers, and cobblestones. Intimately tied to Zen Buddhism, wabi-sabi is an aesthetic that invites comfort and welcomes a subtle spiritual component into the home.
The Wabi-Sabi House recounts the rich history of this emerging trend and reveals countless ways to introduce wabi-sabi elements into contemporary living spaces, from clearing clutter and blocking noise to gracefully integrating salvaged materials and artisan wares at home. But The Wabi-Sabi House is so much more than a decorator's handbook. It gently reminds us that there is a "life" in "lifestyle" books and teaches readers to slow down and discover joy and beauty in what may seem ordinary.
PRAISE FOR THE WABI-SABI HOUSE
With its celebration of the imperfect, unpredictable and incomplete, wabi-sabi is a much more forgiving style than its predecessor.
—Time Magazine
It's about spare living spaces and well-worn handmade objects, and an appreciation of quiet pleasures—indeed, of plain old quiet.
—The New York Times
If you haven't heard of wabi-sabi, get ready. This ancient Japanese philosophy is becoming a cutting-edge decorating buzzword.
—Universal Press Syndicate
What feng shui was to the '90s, wabi-sabi will be for this new millennium.
—Boston Herald
The real beauty of this trend? It's so inclusive, even traditionalists may be part of the movement.
—American Way
The Wabi-Sabi House: The Japanese Art of Imperfect Beauty by Robyn Griggs Lawrence seems to be the best book on the subject. This book covers not just design and decorating, but has a holistic approach to the subject, with hands on tips on how to get a wabi-sabi lifestyle.
—Emmas designblogg
You will be inspired by this sweet little volume's endorsement of the lived-in, down-at-the-heels, familial comfort zones most of us call home.
—Dallas Morning News
A 2004 book by American writer Robyn Griggs Lawrence is a successful popularization of the complexities and nuances of wabi-sabi. The book offers practical suggestions with a warm and and a worldly-wise tone that encourages the possible.
—Hermit's Thatch
Lawrence's book is a fine introduction to a subtle complex of thought and practice.
—Hermitary.com